Workplan
Working with regional government and municipalities
Case-based research will enable to assess the needs of the stakeholders involved in the planning and monitoring of SECAPs in two selected municipalities and to verify the effectiveness of services provided by the platform in their daily activity.
Developing the online platform
The requirements derived from the case studies will be the starting point for the development of the platform, following an agile methodology which includes an iterative and incremental approach to software development. Qualitative and quantitative methods will be applied to define the indicators to assess the residential building stock.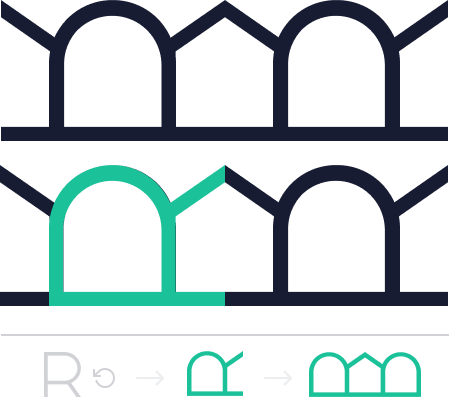 Goals
The main objective of Retabit is to create and validate a data-driven service platform which facilitates multiple stakeholders involved in building retrofitting to evaluate the current status of an urban area and their potential for renovation, to elaborate and assess the impact of renovation scenarios, and to monitor the impact of their implementation over time within the framework of the renovation strategies of a SECAP.
Indicators for SECAPS and ODS
To define indicators to evaluate retrofitting scenarios, according to specific criteria (achieving sustainability objectives, positive energy districts, …) which take into account the multiple dimensions involved in sustainable development programmes: environmental, social and economic.
Building energy-related data
To integrate data from multiple domains and scales, in order to facilitate a holistic understanding of the building retrofitting.
Multiscale and multidimensional models
To create multiscale, multidimensional models to analyse buildings at the neighbourhood and district level, considering various sustainability dimensions across multiple scales.
Building archetypes
To create building archetypes to characterize buildings in selected urban areas, taking into account their multiple dimensions: environmental (physical characteristics, architectural value), social (time of performance, family structure, income level, education level) and economic (real estate value, ownership/tenancy).
The RETABIT platform
To provide an online service platform to support implementation of SECAPs
Explore urban areas and automatically evaluate their renovation potential based on building classification and sustainability indicators
Create and assess retrofitting plans
To follow up the impact of the implemented renovation plans
Case studies
The methods and tools provided by the platform will be applied in demonstration scenarios with the participation of relevant stakeholders and end-users of two municipalities. The two selected municipalities represent two different population densities and building stock characteristics (construction periods).